This story was written by Nicole Costlow for Lincoln Learning Solutions
The United Way is known for helping to fund agencies that support the less fortunate in Beaver County. What Mike Rubino didn't know when he took over as United Way Executive Director in 2014 is how much one local company would support the efforts of his organization.
Lincoln Learning Solutions notified Rubino in October that its board had approved another $50,000 gift to the United Way of Beaver County. Over the past four years, the Rochester-based nonprofit online curriculum provider has given $250,000 to the local United Way branch.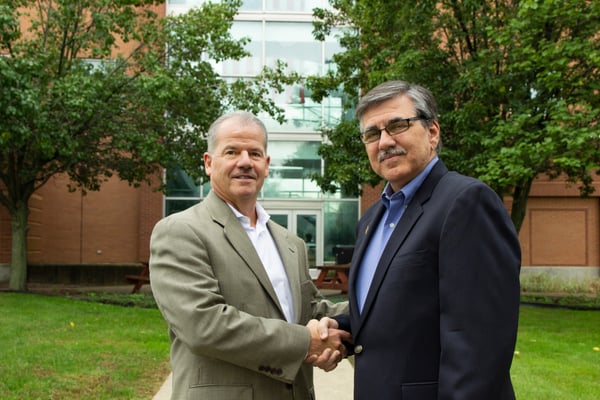 Rubino explained that the contributions of Lincoln Learning Solutions are so important because they are non-designated, meaning they are not earmarked for specific charities.
"By not designating the contributions, it allows us to underwrite specific programs for the 17 partner agencies we serve," Rubino said.
Specifically, Rubino explained that a portion of those funds has been used to help local boy scouts and girl scouts go to summer camp, and another has allowed the Beaver County Association for the Blind to provide preschool eye screenings throughout the county at no cost. The funds have also been used to support the YMCA's summer food program, which provides free and reduced lunches to children at 65 sites. Rubino said that the program has provided 72,000 meals to date.
When Rubino remembers receiving the call regarding Lincoln Learning Solutions' initial gift of $100,000 in December 2014, he said he still gets teary-eyed. His organization was struggling at the time, he said, and it had raised only $650,000 for the year, the lowest funding campaign in the history of the Beaver County branch.
"That gift was able to change the trajectory of the United Way in Beaver County," Rubino said. "Our goal was $700,000 that year, and we ended with $785,000." This year, their campaign goal is set at $800,000.
"We believe that the United Way of Beaver County is a sound organization that fits into our philanthropic mission," Lincoln Learning Solutions CEO Bob Clements said. "They provide needed services to the community we serve and live within. This is why the board is proud to partner with the United Way of Beaver County."
Lincoln Learning Solutions' support of the United Way doesn't end with its monetary gift. The nonprofit also created a payroll deduction campaign last year whereby employees could elect to donate a portion of their pay to the United Way. The company matched all donations and raised another $6,300 through the campaign.
The Lincoln Learning Solutions Board and executive team also encourages employees to support the United Way on their own. In September, eight employees volunteered for the United Way Day of Caring, contributing to a record 137 event volunteers from 20 companies who served at 22 different sites.
Marie Myrlie, LLS senior manager of student support services said she recommends that other employees volunteer for the event next year. "The feeling of satisfaction and seeing the faces of those you are helping is amazing," she said.
Ashley Chambers, HR assistant at Lincoln Learning Solutions, volunteered to sit on the United Way's Allocation Committee. Chambers explained that this committee determines the funds each partner agency receives from the United Way. Volunteers vet all agencies to make sure they are good stewards of the money they receive.
Rubio and Clements agree that the partnership between the United Way and Lincoln Learning Solutions is important for both organizations and for the county.
"We try to make our partnerships a win-win and continue to find common goals that we can help each other achieve," Rubino said. "We are very good stewards of the dollar. [The money] helps so many people in Beaver County, and no money leaves the county."
Clements said, "We choose very carefully who we align ourselves with and are very proud to stand beside the character and good work the United Way is involved with."
The LLS employees agree. Chambers explained why she continues to support the United Way.
"It's not a charity that helps just the poor, or just the blind, or just kids. They're a general organization that helps fund our other charities to be able to accomplish their missions. They each do their own fundraising, sure, but it's simply not enough, so the United Way helps fill those funding gaps."
The United Way volunteer committee at Lincoln Learning Solutions will meet soon to plan this year's fundraiser.